Shifting Gears: A Summer Like No Other
For the first time in more than a year, the world is slowly starting to return to normal. With health and safety restrictions beginning to ease in many parts of the country and people itching to meet their friends and family in-person, this is shaping up to be a summer filled with reunions, fairs, and celebrations galore!
Chances are, you'll have customers asking you for personalized items to celebrate these get-togethers and special occasions. In addition to graduations, 4th of July cookouts, and fairs and festivals, there will be cause for celebration even in the most ordinary of gatherings. And when your customers come looking for those customized items, we want you to be ready with a great selection of new, trendy products.
Drinkware
Personalized drinkware is popular during any season, but the summer months are when it really stands out. From the bleachers at a baseball game to a fun day at the park or just relaxing on the beach, customers love having customized tumblers to show off their personality.
One of the hottest new items are 20oz. Skinny Tumblers and include versions that can be personalized with sublimation and heat transfer printing or engraving, UV-LED printing and vinyl. The sublimation versions come in stainless steel, white, and four new "shimmer" colors.
For engravers, our Simply 20oz. Skinny Tumblers come in four durable, laserable powder-coated colors as well as a stainless-steel version that can be personalized using CerMark marking spray.
If you're doing sublimation or heat transfer, there's also a new 20oz. Skinny Tumbler attachment for the JP450 mug press on the way that eliminates the need for shrink wraps and convection ovens and makes it even easier to customize these tumblers.
Travel and Outdoor Fun
Along with the summer comes plenty of opportunities for travel and outdoor activities. From personalized tote bags and travel accessories to shirts and hats, there's no shortage of items you can offer your customers to make this a memorable summer.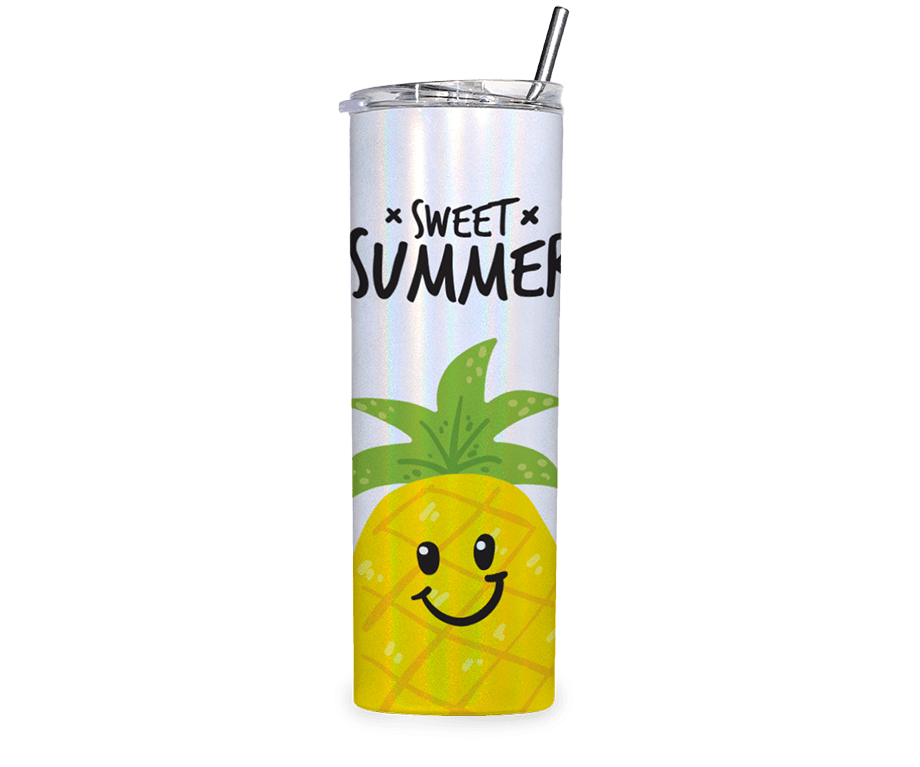 The Saddle Collection line of products can be customized with laser engraving, UV-LED printing and vinyl application and have a great, faux-leather look and feel. Saddle Collection portfolios are ideal for the person on-the-go, and Saddle Collection wine totes are the perfect complement to a bottle of wine for a summer party host or hostess. Also, the Saddle Collection passport holder is a great accessory for keeping essential travel documents safe, such as passports, airline boarding passes, and vaccine cards.
Family reunions and group vacations are even more fun with personalized shirts, hats, and other clothing items. Help your customers stay cool on-the-go with a vented Backcountry Hat from Vapor Apparel. These hats are easy to customize with sublimation or heat transfer printing and go perfect with Vapor Apparel t-shirts, armbands, and gaiters.
Home Décor for Indoors and Out
Photo panels and customized signs are great ways to add a splash of personalization to any indoor and outdoor space. Whether you do laser engraving, heat transfer, UV-LED printing, there are options available that your customers will love.
For indoor or covered outdoor areas, the Home Décor collection offers several options that can be personalized with laser engraving, heat transfer, UV-LED printing, and vinyl. These items are styled after the popular "rustic chic" look and fit with a wide range of design aesthetics.
Sublimatable photo panels, such as the Chromaluxe line of products, offer outstanding photo reproduction and are ideal for both indoor and outdoor areas. The UV stability allows these panels to be used directly outdoors on patios and decks, and offers you a great way to let your customers commemorate a special vacation or loved one.
Find Something for Everyone
With thousands of items available, it can be hard to find the right product for the right customer. With that in mind, Johnson Plastics Plus has created the Summer Product Guide featuring items that have been hand selected by our team of product professionals. These are the hottest items for summer and are sure to be a hit with your customers. Shop by interest or recipient and get a head start on what's sure to be a busy summer!