UV-LED
Printing
Featuring low print costs, hands-off fabrication and outstanding image quality, UV-LED printing is the easy way to add thousands of customizable products to offer your customers.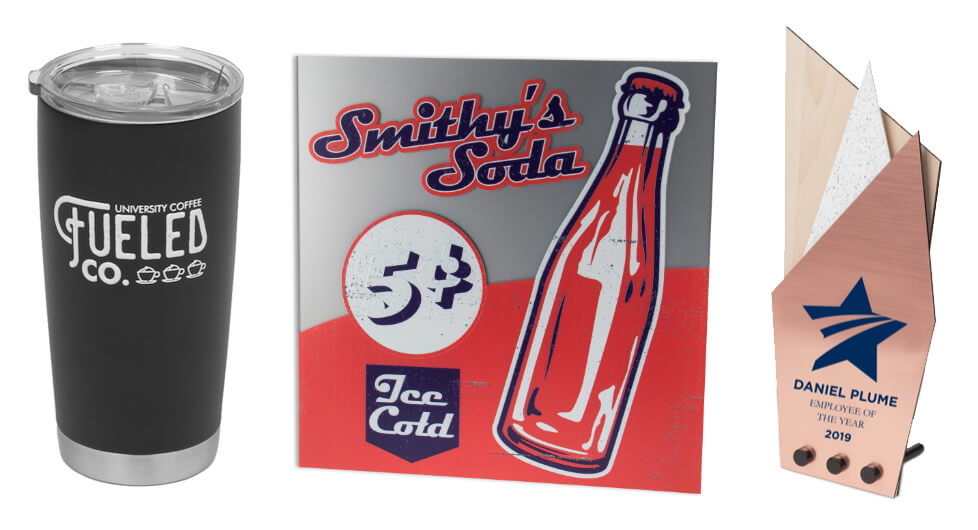 Take the next step
with uv-led printing
The world of UV-LED printing is relatively new to small to mid-size businesses. Unlike sublimation and heat transfer printing, UV-LED printing is a single-step process where the ink is directly applied to an object and instantly cured by UV light. UV-LED Printing isn't as labor intensive as sublimation or heat transfer printing, and items come off of the printer ready to deliver to the customer.

Johnson Plastics Plus offers an industry-leading range of UV-LED equipment, supplies and an impressive selection of blanks to its customers in the signage, awards, and personalization markets. With more than 40 years of industry experience, JPPlus specializes in helping customers eliminate their learning curve by guiding them through the entire purchase and installation process and shows them how to profit and make money through investing in capital equipment.

UV-LED printers offer production costs that are significantly lower than sublimation and heat transfer printing. This means customer margins on finished goods are higher due to less labor and less ink. UV-LED printing is also the most versatile of the three technologies. With the right UV-LED printer, customers can print on flat and cylindrical surfaces or garment with one machine. Lastly, because the inks are instantly cured and can be layered during the printing process, it's very easy to print items with texture and dimension, including ADA-compliant signage with Braille.

Adding new technology is a great way to attract new customers and expand product offerings. Johnson Plastics Plus will make sure customers get the right equipment and the right products for what they're trying to accomplish. Our sales team will help customers choose which machine is right for their budget and business.


Getting Started
With UV-LED Printing
Our team of experts are ready to help customers every step of the way. Our friendly service team is easily accessible and provides help in making suggestions as to which materials will get the best results for specific projects and applications. Our team will also help with printer installation and walk you through the printing process to make sure you get the most out of your investment.

The Johnson Plastics Plus experience goes well beyond our outstanding service. Our site has the latest in new products, informational blogs, how-to's, and product inspiration to help make your business a success. Whether customers are just getting started or looking to grow their business with UV-LED technology, Johnson Plastics Plus is the perfect partner before and after the sale.

Johnson Plastics Plus offers customers a selection of financing options to help get them started with the exciting world of UV-LED printing.
Why Choose
UV-LED Printing
UV-LED INK IS VERSATILE
UV ink is compatible with a wide range of substrates. Droplets of UV ink are cured by UV lights quickly after they land on the surface of the media, leaving almost no time for the droplets to react or be absorbed by the media. This virtually eliminates any ink and media compatibility issue, making the UV ink compatible with a wide variety of coated and uncoated media.

UV ink absolutely never dries in the print head! UV ink does not contain solvent that must evaporate during the curing phase. UV ink is liquid ink and does not evaporate, instead, it quickly becomes a solid ink within 0.02 seconds after it receives exposure to strong UV-light.
UV-LED PRINTING IS FAST AND CONSISTENT
Achieve, vibrant, consistent color prints with UV inks!

UV inks are very elastic and forgiving.

Fast Print Process. UV ink becomes solid very quickly, which leads to instant drying that results in a completely cured graphic in a matter of seconds. This also allows for a very fast print process.

Fast Curing Speeds. With a UV-LED printer, the ink is dry the moment it comes off the press. No more waiting for the ink to dry.
UV-LED PRINTING IS DURABLE
UV inks are more resistant to scratches, wear and tear, and sun exposure than its traditional printing counterparts.

The scratch resistance of UV ink is much better than eco solvent ink.
UV-LED INK IS ENVIRONMENTALLY FRIENDLY!
UV ink becomes 100% percent solid and does not release dangerous VOCs (volatile organic compounds).

Absolutely no odor!
UV-LED Printer Comparison Chart
The Top UV-LED Printer Brands
Direct Color Systems (DSC) is the leading manufacturer of UV-LED printers made in the USA. DCS specializes in direct to substrate flat bed UV-LED printers for commercial and industrial applications. We offer DCS's tabletop UV-LED printers as well as its production center, the 7200Z that can print up to 48" x 24" projects.


ADA-Compliant Braille Sign Printing (Patented direct-to-substrate Braille):

UV-LED printing Braille signs save time and money over traditional Braille fabrication methods. Easily pair your DCS printer with Rowmark ADA compliant and UV-LED print receptive sheet materials.

Personalized Award Printing:

Awards - Plaques & More! Print directly to acrylic or glass awards, plaques, signage and print to cut objects.

Promotional Gift Printing:

Create custom, personalized gifts with a UV-LED printer. A UV-LED printer is perfect for entrepreneurs looking to create resellable gifts that have been personalized.

Bottle & Cylindrical Printing:

Easily print on round and conical shaped objects with our cylindrical attachment. Great for bottles and tubes! For added dimension add a textured print!

Color Sign & Industrial Printing:

Make your wayfinding and interior signage designs pop! With a UV-LED printer create stunning signage with vibrant colors!

TEXTUR3D™ Printing:

With the unique ability to print extreme raised graphics add a level of dimension and interest to your projects with raised art and graphics.

T-Shirt Printing:

Print directly on to white and dark garments with DCS printers configured with the right Direct to Garment (DTG) inks!

Cell Phone & Tablet Cases

Add stunning graphics, photo quality images or even raised textured artwork directly on to cell phone and tablet cases.
UV-LED PRINTING
AT A GLANCE
WHAT EXACTLY IS UV-LED PRINTING?
Great question! UV-LED printing offers instant curing of a digitally printed image, with the ability to print onto a WIDE variety of printable substrates. With instant curing, it is possible to achieve a unique layered texture, or raised printing effect, providing a dimensional (tactile) print. UV LED Printing is environmentally friendly, with minimal emissions and low energy consumption.
WHAT IS UV-LED CURING?
UV curing references the photopolymerization process that uses UV energy to change a liquid to a solid. Upon absorption of the UV energy, the photoinitiator (PI) produces free radicals which initiate cross-linking with binders (monomers and oligomers), in a polymerization reaction to cure or solidify the ink. WHAT! WHO CARES? What is important is what you can do with UV LED printer technology.
WHAT CAN I PRINT WITH A UV-LED PRINTER?
Just about anything! UV/LED Printers can print on a wide variety of substrates including: acrylic, glass, metal, powder coated substrates, polystyrene, PVC, wood, ABS, art board and canvas, a variety of vinyl and many additional RIGID and FLEXIBLE substrates.

UV/LED inks allows for instant curing with strong adhesion for lasting and durable prints. Although adhesion promoters are advised for some substrates, many can be printed easily without any additional preparation.
ADVANTAGES OF UV-LED TECHNOLOGY
LED lamps last 20,000+ hours vs. 2,000 hours for mercury lamps
No downtime to change lamps or consumable lamp costs
Instant on/off and no degradation of intensity with toggling
Contains no mercury, obviating need for disposal/recycling
LEDs do not produce ozone gas with use while conventional mercury lamps do