Hot Trends in Personalization
Personalization has come a long way in the past decade. Thanks to advancing technologies in the creation of substrates, there are now a wide variety of materials that can be laser or rotary engraved, UV-LED printed or toner heat transfer printed.
This opens up a world of possibilities for products to offer your customers. There are now products for personalization that can match virtually any style or design theme. This includes easily adding personalization to naturally occurring products such as wood, cork, bamboo, and slate.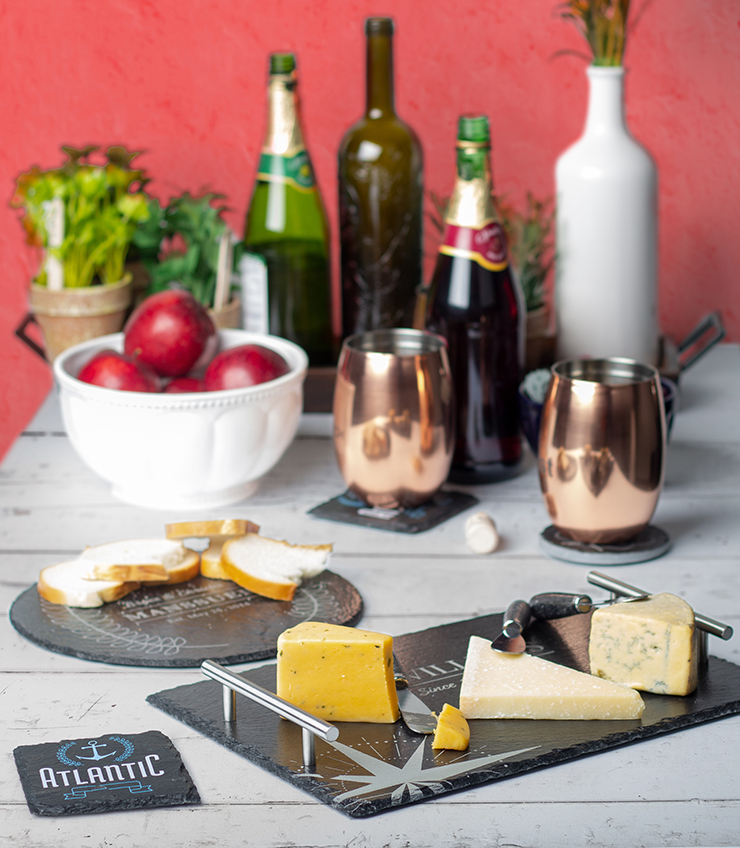 Serving Up Something Special
High-quality, personalized kitchen items are one of the best products you can offer your customers because they fit for so many occasions: weddings, birthdays, Mother's Day, Father's Day, anniversaries, and so on. However, there are two things you need to consider when offering items that will come in contact with food.
First and foremost, is the product FDA certified food safe? The Slate Collection products from JPPlus are FDA certified food safe prior to fabrication. That means that, rest assured, the top coat of the product is food safe. It's always good to check with the supplier before fabricating to ensure items are FDA certified.
Secondly, you'll want to take into account what kind of fabrication you want to use and double-check that it's OK to use with your item. This is particularly true with laser engraving. If an item is made from non-laserable plastic, it can melt in your laser or, even worse, give off toxic fumes.
For example, the Slate Collection is all-natural stone that's designed for laser engraving and is print receptive. No matter what your fabrication method, you'll be good to go!
How It Was Made
The serving tray was designed with a laser engraved image on the front. When lasering through the top layer of the product, the natural light gray of the slate core shows through. The table mat and coaster pictured were both UV-LED printed. This allows you to print full-color images, including white, on the items for an extra embellishment.
Here is a complete list of the materials used in this project:
Conclusion
Adding gift items that have a practical use is a great way to grow your customer base. Items like these used to be purchased from your local mall engraving kiosk, but those stores are starting to disappear. There's an excellent opportunity for you to fill in the gaps and offer your customers personalized gift items they're sure to love.
Click below to get a FREE copy of the fabrication files for this project: