Get Inspired! Marvin's Donuts Sign and Name Badge
Welcome to the JPPlus Resource Center!
Your resource for support for: Engraving | Sublimation | Toner Heat-Transfer | UV-LED & more!
Get Inspired! Marvin's Donuts Sign and Name Badge
Trendy Looks
A hot trend in signage and personal identification is the use of different media within a project. For instance, using both wood and plastic in a sign to create different textures and depth, or using a combination of traditional engraving methods with full-color printing.
Maximize Your Material
The Marvin's Donuts example shows how you can begin to create a signage package with just a few different elements. It's very easy to take the media used in the larger sign and scale it down to create coordinating name badges. Offering up the name badges also helps maximize your investment in the materials purchased for the project. Taking scrap pieces from larger signs and fabricating name badges gets you more value for your sheet stock while also giving the customer an opportunity to reinforce their brand image. Plus, your customer will be coming back time and time again for more name badges!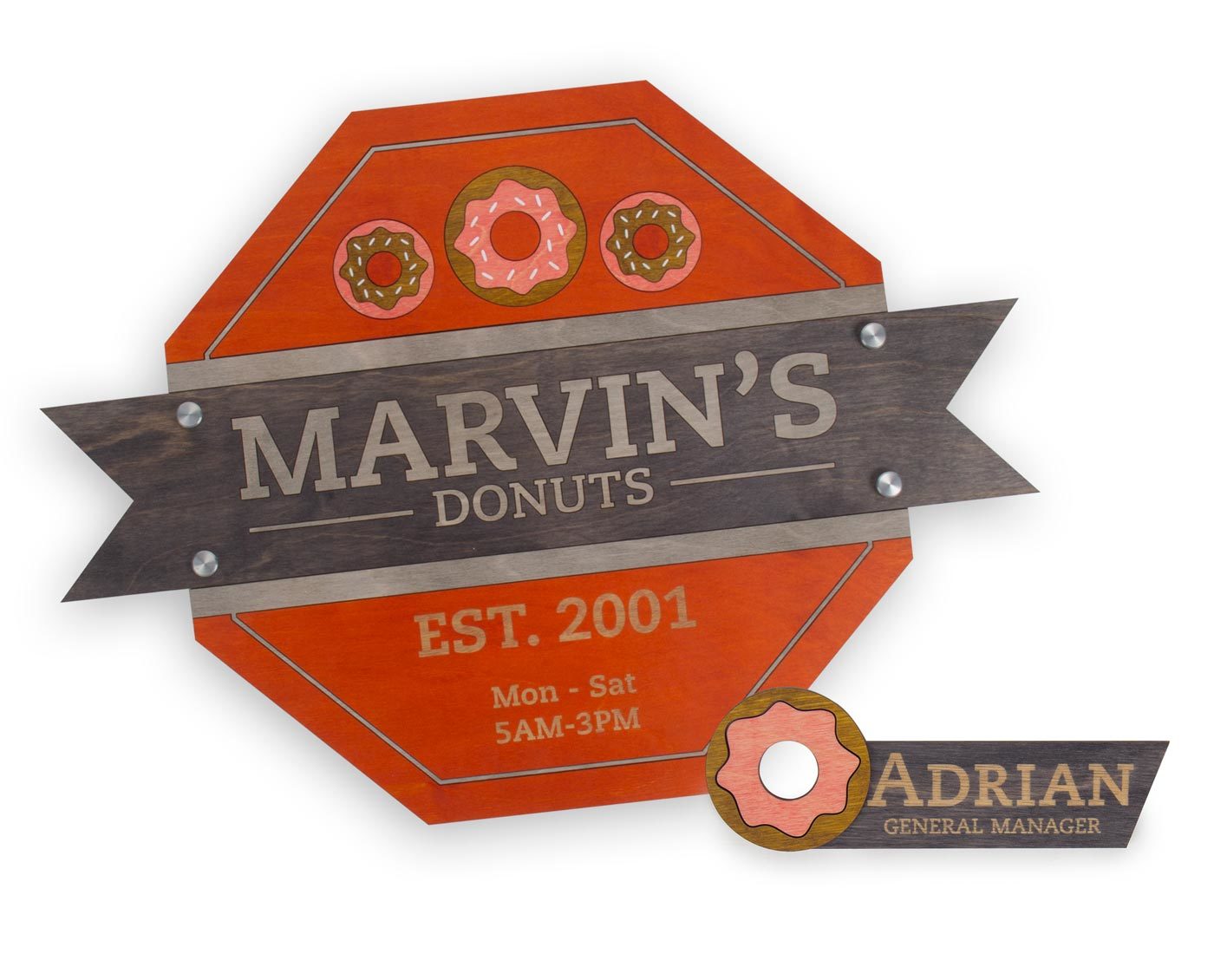 How It Was Made
This mixed media sign and name badge package is made from engravable wood and plastic materials. It uses front-engraving techniques, vector-cut and applied lettering, and toner heat transfer printing. In addition to the layering of products in these pieces, the finished large sign also features standoff hardware for added dimension.
Here is a complete list of the materials used in this project:
Conclusion
No matter how you do it, mixing media is a great way to make your work stand out to your customers. It shows you're not afraid to challenge design constructs and create a piece that will help your customers separate themselves from their competition and help reinforce their brand with a creative flair.
Click below to get a FREE copy of the fabrication files for this project: