Choosing the Right Heat Transfer Paper for Toner Based Heat Transfer Printers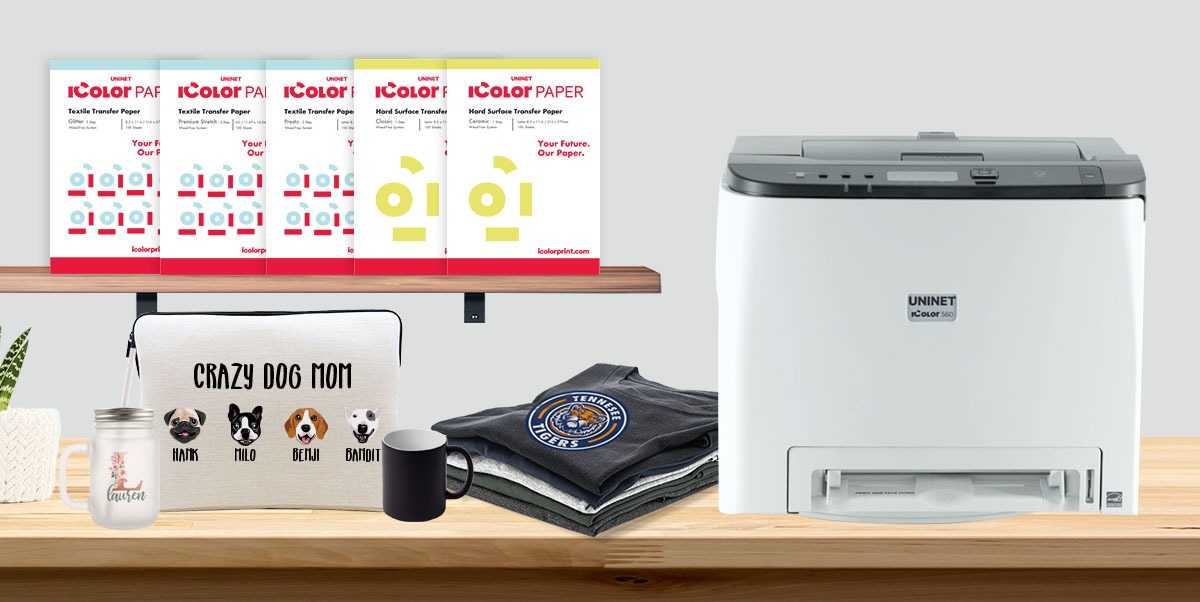 Heat transfer printing can really level-up any personalization business. From the ability to transfer to everyday objects and cotton t-shirts to the ability to transfer white toner on to dark items, heat transfer is becoming a go-to technology to quickly create customized items.
One of the key factors in your success with heat transfer printing is choosing the right paper for the right substrates. Not all heat transfer papers are created the same, so whether you're creating custom shirts and garments or personalizing home décor or signs, picking the right paper can make your process more efficient and improve your transfer results.
Paper for Garments and Soft Goods
Transferring to t-shirts, sweatshirts, tote bags, and other soft goods is one of the best uses for heat transfer printing. With the ability to do short to mid-sized orders on a wide range of fabrics, there's no shortage of customized options you can offer your customers.
There are several different transfer papers made specifically for garments and fabrics, each with its own unique properties based on your customers' needs and budget.
For starters, the iColor 2-Step Select paper is a good, all-around transfer media for both light and dark garments. This paper is ideal for the cost-conscious customer who's looking for a personalized shirt for a specific event or promotion. These transfers will withstand 50 or more washes and offer good color reproduction.
For customers looking for a little more durability and vibrancy, the iColor 2-Step Premium transfer media offers great color reproduction on both light and dark garments and will take up to 100 washes. This paper is ideal for customers who's garments may have repeated wear, such as a customized work shirt.
If your customers have a unique request, there are transfer papers that have specialized looks, like the iColor 2-Step Glitter transfer media and the iColor 2-Step Metallic transfer media. These transfers are great for birthdays and bachelor and bachelorette parties and weddings. Be sure to check the manufacturer recommendations, as these papers are not compatible with all toner heat transfer printers.
Paper for Signs, Drinkware, and Other Hard Surfaces
Heat transfer printing isn't just for garments. Your printer can create any number of personalized items, including drinkware, awards, signs, and home décor items. There are papers available for any number of hard substrates, and choosing the right paper is critical when customizing with heat transfer.
To begin with, the iColor 1-Step Hard Surface transfer media is a good all-around choice for personalizing acrylics, metal, ceramics, glass and wood. It will offer good color reproduction and durability and is ideal for items that might not have day-to-day handling, such as home décor products and awards.
For items that require additional durability, such as drinkware and leather goods that may be handled on a regular basis, the iColor 1-Step Premium Hard Surface transfer media is the better choice. It offers additional protection against, scratching and chipping along with vibrant color reproduction.
Finally, if you've got a special request for a metallic look for a transfer, the iColor Presto! 1-Step Metallic Hard Surface transfer media is the answer for you. This transfer paper works with glass, ceramics and metals, making it a great way to take drinkware personalization up a notch. Ideal for bridal party drinkware or special occasions like milestone anniversaries and birthdays, creating personalized transfers with this media will set you apart from the competition.
Paper for Specialty Applications
Every now and then a customer will contact you with a unique request, such as personalizing a candle or creating temporary tattoos. With a heat transfer printer and specialty papers, you can customize any number of odd-shaped items.
The iColor 1-Step Aquaclear transfer media allows you to create full color transfers for items that can't fit in a heat press or are heat sensitive, such as candles, toys and soft plastics. Acquaclear transfers work great on both light and dark colored surfaces.
Perfect for showing school spirit or cheering on your favorite team, temporary tattoos are fun for both kids and adults. With the iColor Tattoo Transfer media, you can create full-color customized temporary tattoos for your customers. Offer the tattoos as one-offs or in sheets depending on your customers requests. The iColor Tattoo Transfer media not only works with heat transfer printers but also with many popular color laser printers as well.
Window clings are a great touch for any holiday season, and offering your customers personalized window clings with iColor Window Cling sheets is a great way to expand your offering and revenue. Create custom window clings for sports teams or local businesses, all with your heat transfer printer.
WOW Your Customers!
Choosing the right paper for the right project can make all the difference in the success of your business. When you pick the right paper for the right substrate, transfers look and feel their best and last as long as possible. The beauty of heat transfer is that you can customize thousands upon thousands of items, and having the right paper handy will have your customers saying, "Wow! I didn't know you could do that!"
Johnson Plastics Plus is here to help you get the most out of your heat transfer printer. From helping with paper selection to tips and tricks when doing your first transfer, we're never more than a phone call or email away.
Check out our heat transfer paper guides for textiles, hard surfaces, and specialty applications. They're a great place to start to help you choose the right paper for your next project.
---