Get Inspired! Baseball Awards
Think Outside the Batter's Box
The UV-LED printing process has been around for decades. The ability to print full-color graphics that are instantly cured by UV-LED light has been a favorite process of large sign shops and print houses due to the ease of use, low ink and printing costs, and variety of items that could be printed. However, those earlier printers had large footprints and price tags to match, which meant they weren't practical for most sign and trophy shops.
Things have changed in the last five years, and UV-LED printers are now smaller and more affordable than ever before. And as you can see in this sample, a UV-LED printer makes stunning awards.
Awards Worthy of an MVP
One of the main draws of a UV-LED printer is the ability to print in full-color, including white, on any substrate. Some UV-LED printer also allow you to print with texture, as the ink can be layered and instantly cured to create a 3-D like effect. While the sublimation process allows for full-color, you still have to find items that are polyester coated, plus transferring to dark substrates is typically not possible. As you can see with this example, those barriers are eliminated with UV-LED printing.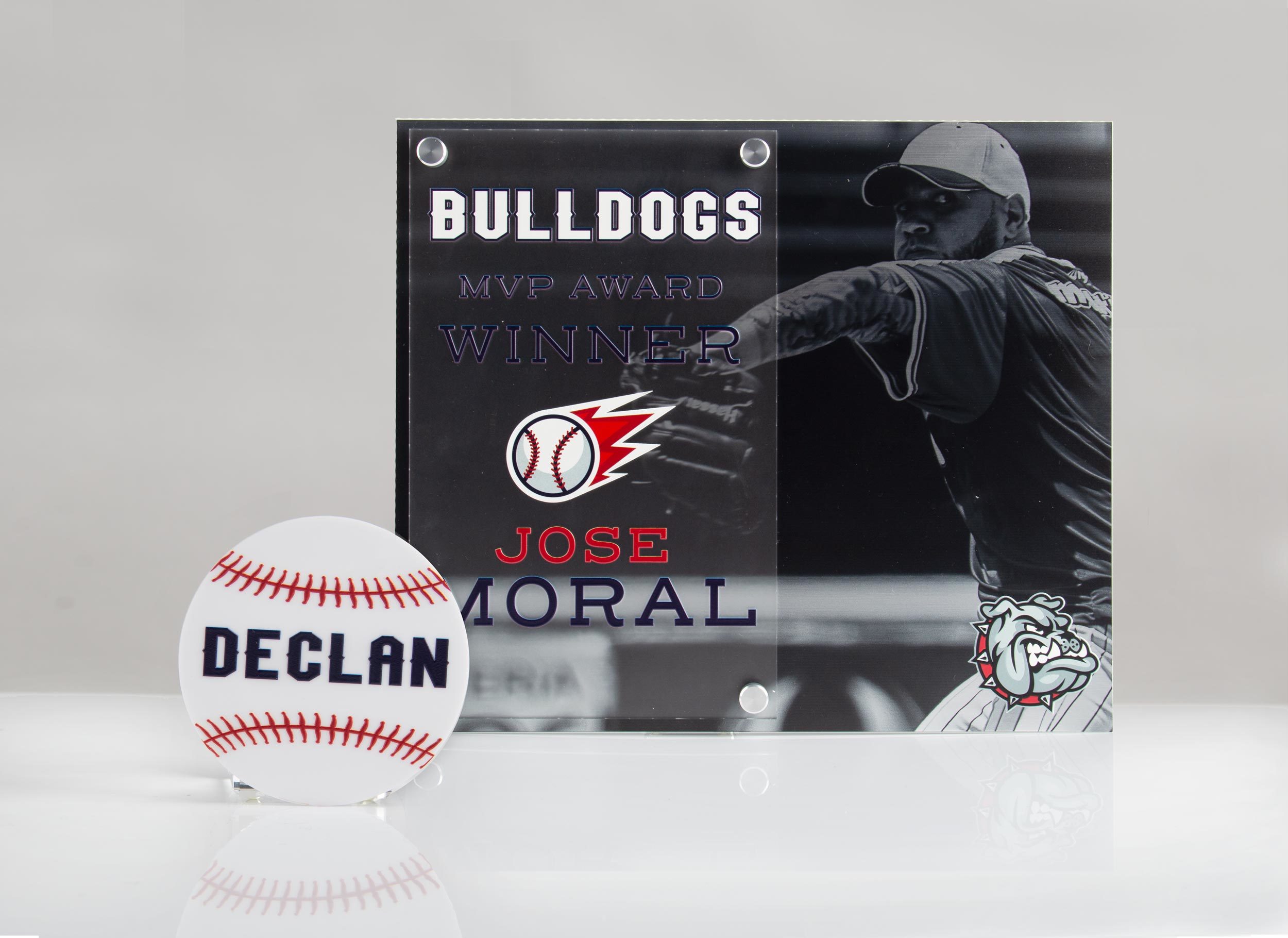 Using a grayscale image as the backer for this award really makes the logo in the lower right hand corner stand out, and the use of stand-off hardware for the text portion of the award takes it to a whole new dimension (pun intended).
How It Was Made
The player photo was UV-LED printed in grayscale on a metallic silver piece of plastic with a textured logo in the lower right-hand corner. The text for the award was printed on clear acrylic, allowing the image below to show through. To add some extra depth, standoffs were used to allow for a little space between the backer and the text. Finally, a baseball bag tag was printed on white acrylic with raised letters and stitching.
Here is a complete list of the materials used in this project:
Conclusion
Customers are always looking for something to make their projects stand out. If you already have a laser or rotary engraver, a UV-LED printer brings the extra value of full-color to custom cut shapes. Expanding your equipment to include UV-LED printing is a great way to show customers some new processes and set yourself apart from your competition.
Click below to get a FREE copy of the fabrication files for this project: