Creating a College and University Signage Program: Part 2 - Donor Room Signage
Donor Recognition Room Signage
University signage and recognition go hand-in-hand. As any school's Development Office will tell you, properly acknowledging project donors is vitally important to any project. Developing a signage program that involves an aspect of recognition adds to the complexity of the project. However, taking time to plan on the front end will ensure a cohesive look throughout all elements of the project as well as proper recognition of the donors.
Keeping the School's Brand in Mind
Room identification signage that also doubles as donor recognition has to be mindful of both the school's overall brand proposition as well as a maintaining a cohesive look with the rest of the building signage.
The most important part of this project was to ensure that the University's brand identity and standards were followed as closely as possible. That included coordination with the sign fabricators, interior designers, and representatives of the University's marketing department.
For this project, there are three visual elements that tie the entire project together: the use of the schools colors of orange and black, consistency of materials used, and the graphic representation of the "Old Main" building. (see Part 1 of this series for more about the school's overall brand approach)
Proper Recognition
In order to properly recognize the donors who sponsored these rooms, the decision was made to help these signs stand-out while fitting in with the overall project aesthetic. Using a unique hardware mounting option lets building patrons know that this isn't just an ordinary room identification sign, but rather a sign that deserves a bit of extra attention.
Additionally, the use of multiple material layers and fabrication techniques gives a sense of depth to the sign that will set it apart from other room identification signage in the project. However, all signs will still maintain a look that makes them feel like part of a cohesive program.
How It Was Made
The Donor Recognition Room Signage was made using metallic acrylic printed with the "Old Main" graphic as the base layer (1). The top layer was created by UV-LED printing a clear piece of cast acrylic (2). That layer features the university's orange color along with the donor name and room number with printed ADA-compliant Braille. Finally, the item was secured to the wall using a decorative clamp with anti-theft locking mechanism (3).
– 1/8" Rowmark MetalGraph Plus Brushed Stainless Steel/Black JPPlus item #MP942314
– 1/8" Rowmark ColorHues Gloss/Clear JPPlus item #CH341100
– Rowmark Fisso Clamper Matte Silver JPPlus item #CPFCL200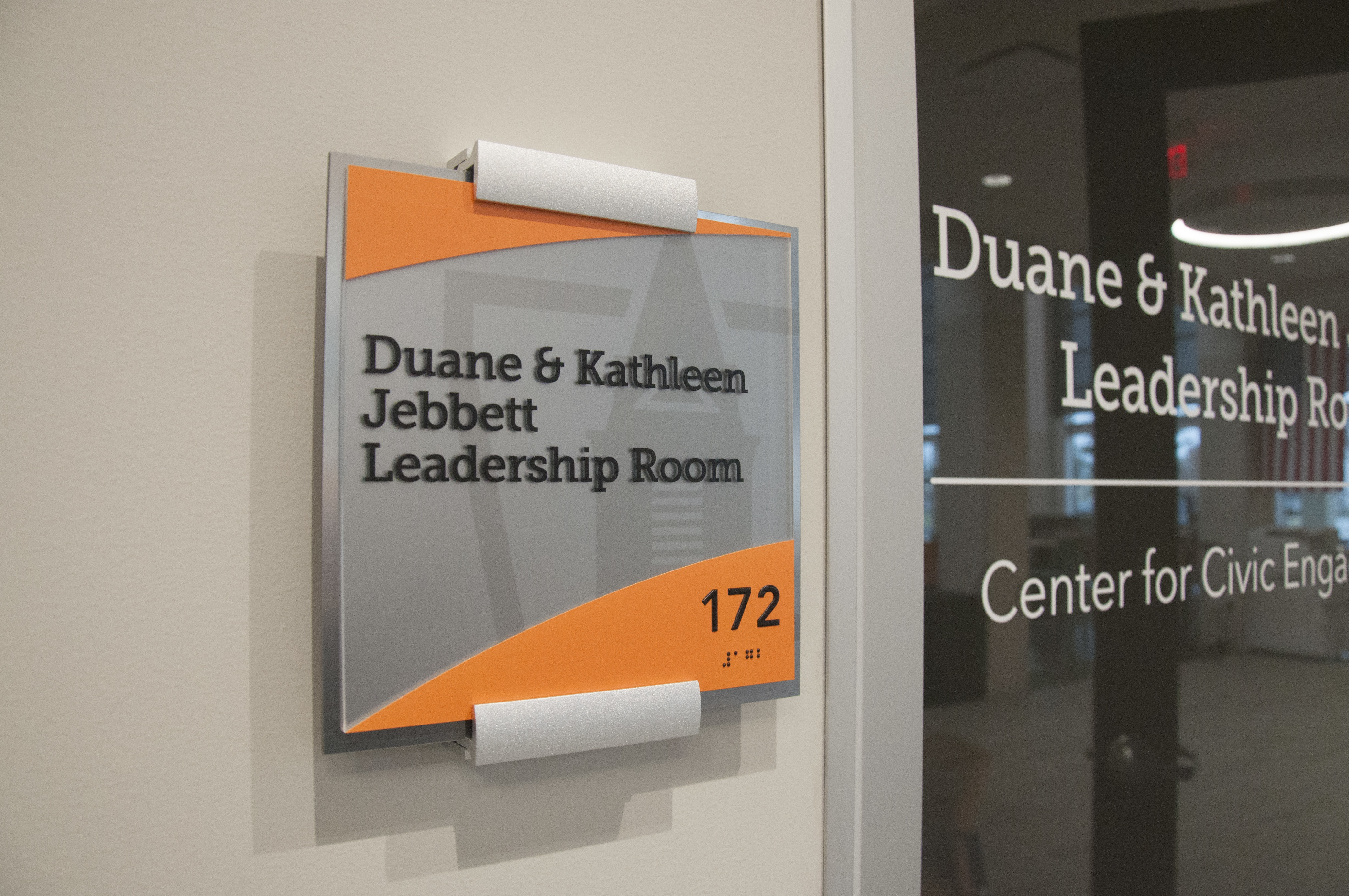 If you missed part 1 of our series, you can find that here:
Creating a College and University Signage Program: Part 1 - Overview