Create custom, dimensional photography gifts for your customers with ChromaLuxe sublimation panels!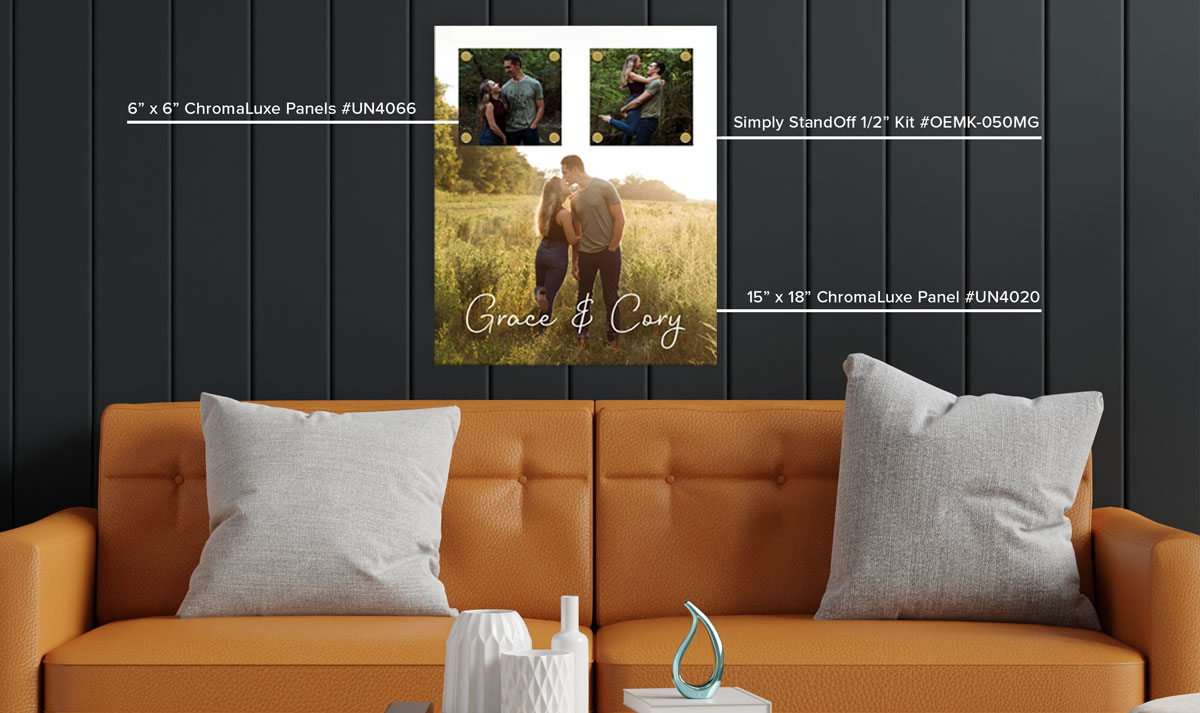 Whether you've been sublimating ChromaLuxe photography panels for years, or you're just getting started, we've got a terrific way to elevate the panels into a stunning, dimensional home décor piece your customers will love.
By layering a few ChromaLuxe panels together, you can create a unique way for customers to show off their special memories. The best part is that if you're already doing sublimation, you won't need any additional pieces of equipment.
ChromaLuxe panels are engineered to provide brilliant, full-color image reproduction, making them perfect for photographs and highly detailed graphics for the home, offices, and retail environments. They come in a variety of sizes in matte, semi-gloss, and gloss finishes and are moisture, scratch, and fade resistant.
Here are the steps so you can easily create this beautiful ChromaLuxe photography display with sublimation:
Before starting, make sure you're using images that are high resolution.  This will ensure you get the best colors and highest image detail for your finished project.
Size your print to be just a little bit larger than the panel size. We recommend adding at least 1/8" bleed (extra space) when sizing your photo. So, if you're transferring to an 8" x 10" panel, you would want to size your art to be 8.125" x 10.125". This step makes it much easier to align your transfer to your panel and allow you to take full advantage of the unique, edge-to-edge ChromaLuxe panel design.
Print your photo on Johnson Plastics Plus sublimation paper from your sublimation printer like the Sawgrass SG500 or SG1000 or Epson F570 or F6370.
Most ChromaLuxe products come with a clear masking to protect them during shipment. Be sure to check to see if your panel has the masking and remove the protective masking from before transferring.
Tape your printed transfer to your three flat panels:
For the large, back piece we used a 15" x 18" White Gloss ChromaLuxe panel (Item #UN4020)
For the smaller attached pieces, we used 6" x 6" White Gloss ChromaLuxe panels (Item #UN4066)
Now you're ready to press:
Set your press temperature to 400° F
Use moderate/heavy pressure (it should require some effort to close your press)
Set your time for 60-80 seconds
Lay your product with the transfer paper face up and cover it with blowout paper to protect your platen.
Once finished, open your press slowly, and in one swift motion remove the transfer paper.
We used Simply Standoff kit (Item #OEMK-050MG) to attach the smaller panels to the larger panel. If you have a drill or drill press, you can put a hole in the larger panel to attach the standoffs. Since the standoffs in our piece are not being used as load bearing mounts and just holding the smaller panels to the larger one, we used a heavy-duty superglue and glued the standoffs in place. Using this method, you won't need to use the screw that comes in the kit. Glue the front "cap" on the top of the panel, and the longer "barrel" piece between your back panel and smaller front one.
Now you have a finished piece that would make a great gift for a wedding, Mother's Day, Valentine's Day, anniversary, or "just because." Adding the extra pieces gives your finished project a unique touch of dimension without a lot of additional cost. However, you'll be able to sell your finished project for a premium and put more money in your pocket.