Which Wood Should You Choose?
Wood products are all the rage, as fabricators and customers alike look to take advantage of the renewed interest in natural products. The signage, identification and personalization markets are no different, as there are several new wood-based materials to choose from. But which product is right for your project? This post will talk about the four wood product options from Johnson Plastics Plus to help you make the right choice for your project and customers.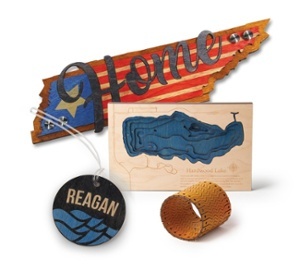 COLORSHOP WOODS
Overview: ColorShop Woods is a line of all-natural birch stained in vibrant colors and is available exclusively from Rowmark. The product line consists of 19 colors, 15 of which are solid colors and 4 of which show more of a grain pattern.
Fabrication Methods: ColorShop Woods are laser engravable for both raster and vector cutting. Removal of the top layer reveals a natural wood core. The product also accepts screen printing, UV-LED printing and paint filling.

Usage: This product line is great for craft, art and hobby projects, interior signage, ADA-compliant signage, and personal identification.
Advantages: Being a Rowmark exclusive, this product gives you a unique option to offer your customers. It has a rustic yet contemporary look. The wide variety of colors gives you numerous design opportunities. This product is particularly well suited for mixed media signage that includes elements of metal or plastic.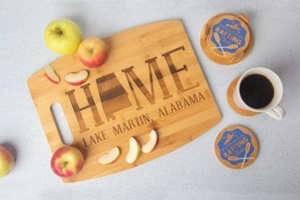 BAMBOO GIFT ITEMS
Overview: A new addition to the Johnson Plastics Plus product line, bamboo offers a highly durable, environmentally friendly option for customers looking for a unique wood finish. Available in a variety of pre-cut blanks, bamboo is a trendy product that is sure to be popular with customers for years to come.
Fabrication Methods: Bamboo products can be raster engraved with a laser, but due to the dense nature of the product it is not recommended for vector cutting.

Usage: Because of its sturdy nature, bamboo products are ideal for high traffic areas or applications where durability is a concern. Laser raster engraving leave a unique, darken relief area that is unique to bamboo. It is not recommended for vector cutting. Bamboo products also accept heat transfer and UV-LED printing methods.
Advantages: Many of the Johnson Plastics Plus bamboo products are FDA-approved as being food safe before engraving or printing. These bamboo items are perfect for customers looking for an attractive, personalized piece that's also functional.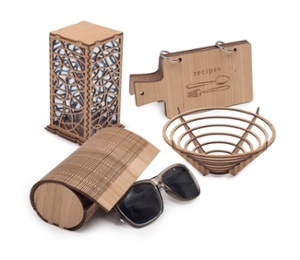 HARDWOOD COLLECTION
Overview: The Hardwood Collection from Rowmark is a line of quality constructed natural wood products. This product line features nine different wood varieties, including popular options such as maple, cherry, walnut, cedar, mahogany, sassafras, bamboo, red alder and red oak.
Fabrication Methods: The Hardwood Collection products can be laser engraved for both raster and vector cutting.

Raster engraving reveals a darkened engraved mark. This line is also suitable for rotary engraving and is heat transfer and UV-LED print receptive.
Usage: This product line offers a natural look and feel and is ideal for signage, displays and personal identification. The product is also great for hobbyists that have small to mid-size lasers and are looking for a material to mark or personalize.
Advantages: The contemporary look of this material is ideal for mixed media signage, such as an accent piece to a plastic ADA-compliant sign. The product also looks great with metal and other ornamental accents. The ease of fabrication makes it perfect for fine, detail engraving and marking.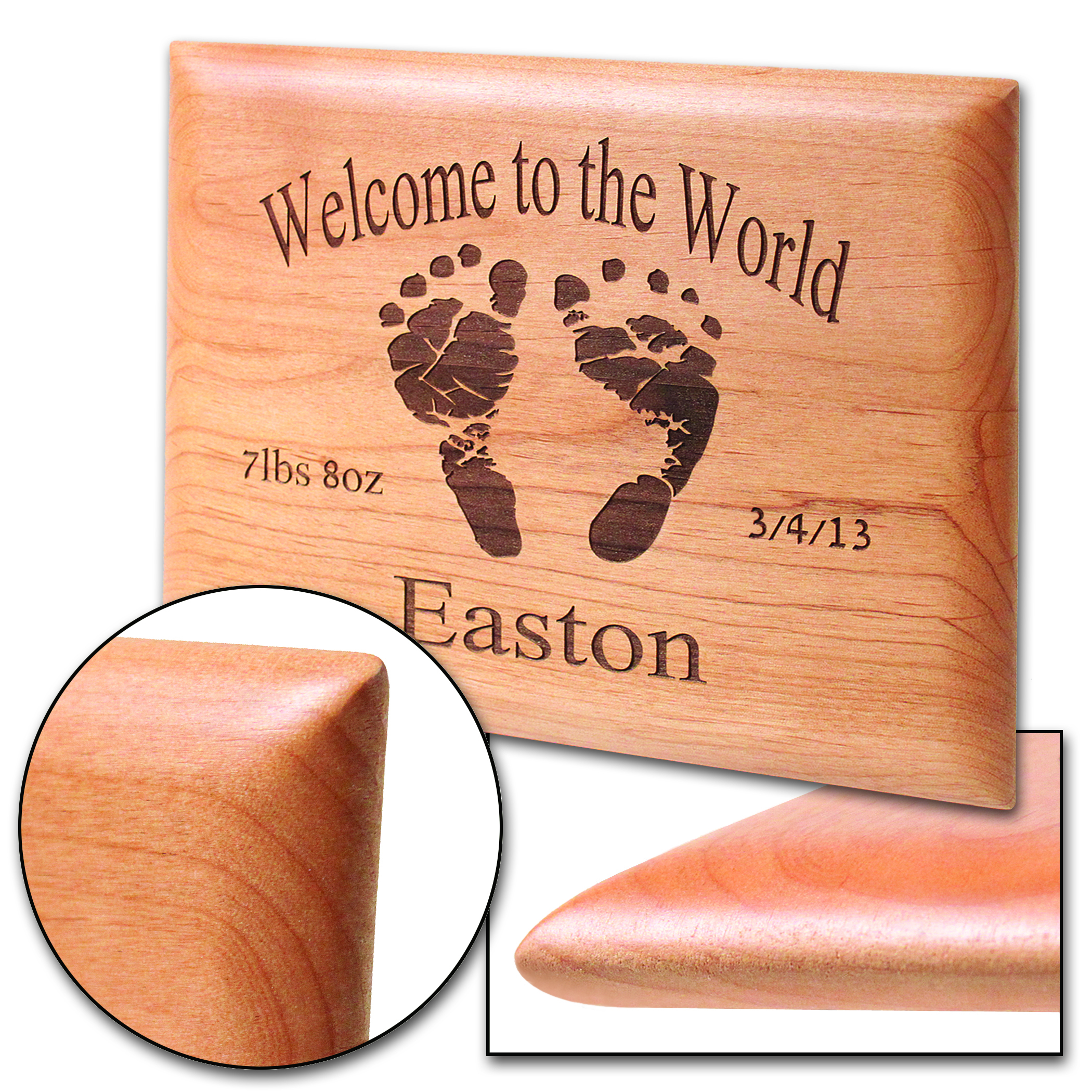 LASERBITS WOOD PRODUCTS
Overview: Johnson Plastics Plus carries a full-line of pre-cut wood plaques and personalizable items under the LaserBits product line. The entire line features a variety of wood finishes, from lighter colored maple to darker rosewood and cherry.
Fabrication Methods: As the name suggests, the LaserBits wood products are designed to be easily laser engravable.

Usage: The wide variety of products in this line means that there is something to match almost any customer request. The laserable nature of these woods products allows for fine, detail engraving of company logos or photos.. In addition, many of the items can also be fabricated with a rotary engraver as well as UV-LED and heat transfer print receptive.
Advantages: The LaserBits pre-cut wood products are an ideal "stocking" product for engravers and fabricators. Because the products are ready to be personalized right out of the box, they're great to have on hand when a customer needs a last minute gift item or plaque. These products are ideal for company awards, memorial plaques, and graduation gifts.
Whether you're looking for a blank canvas for your next sign or project or need a pre-cut blank to fill a customer request, industry and design trends show that wood products will continue to be in demand for the foreseeable future.