Informational Pricing Updates
Johnson Plastics Plus is constantly working on creating a better experience for all of our customers. We frequently use statistical data, sales data and internal resources to make educated design choices.
While these are great tools, our best information comes directly from our customers. We are grateful to the customers who take the time to share their experience as it gives us the opportunity to create a better platform for everyone.
CLEAR PROMOTIONAL PRICING
We frequently provide promotional codes and special product pricing for products on our site. While our site has always provided the proper pricing, it hasn't always been clear that a customer was receiving that discount until the very last step of the checkout process - so we have addressed this.
Throughout the site, whenever a customers price is less than the wholesale price, the original price is clearly displayed next to the discounted price. This change is something that is available globally on the entire site, including product pages, the shopping cart, and the checkout review step.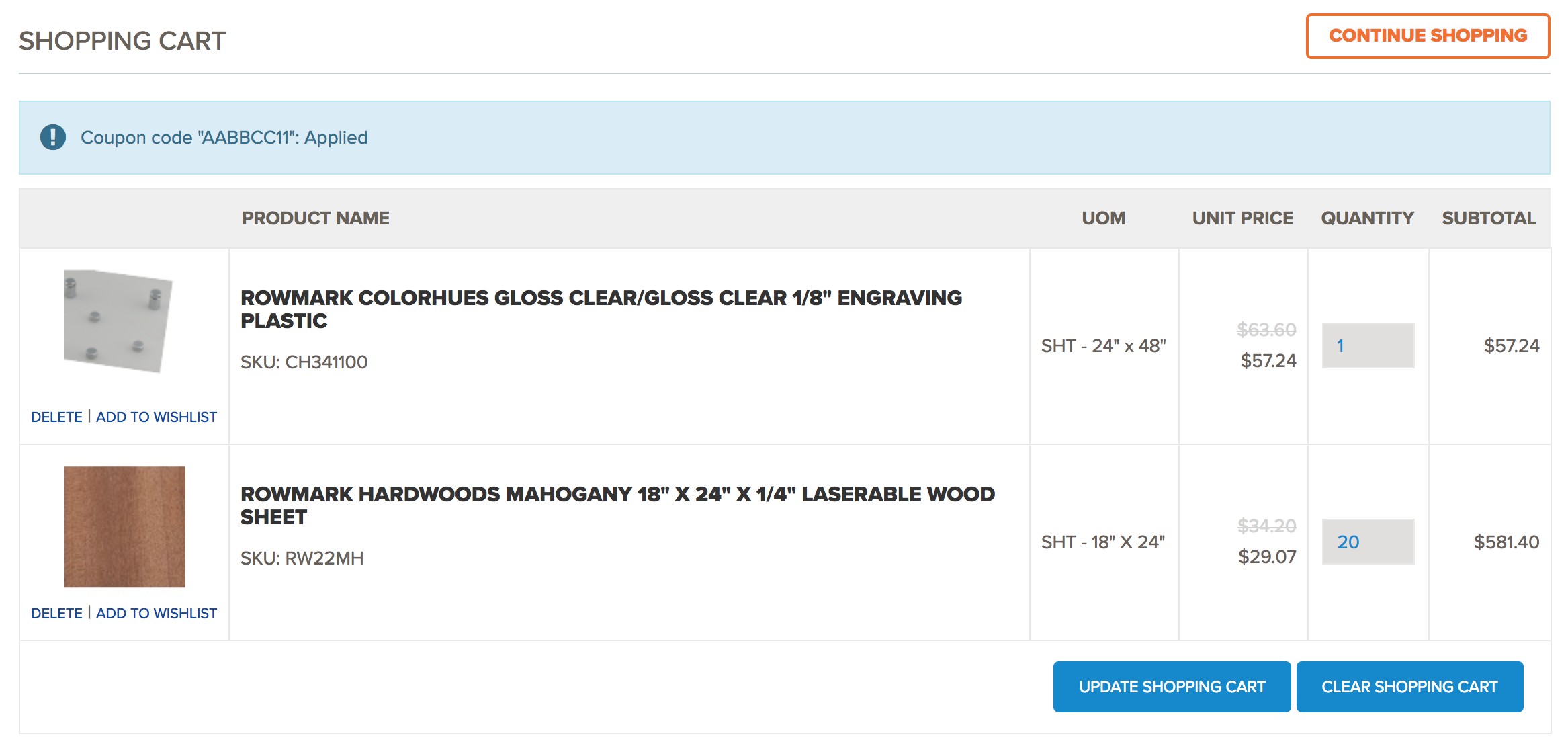 If you are looking for these clear price updates, it's important to note that they will only show if you are receiving a promotional price. If you want to sign-up for our e-mail list to receive promotions and other important emails you can signup for our newsletter.
SIGN-UP FOR EMAIL UPDATES
Our industry-leading selection is constantly changing. Sign-up for email updates as new products are added and be the first to provide your customers with the newest products and receive special pricing and promotions.
UPDATED PROMOTIONAL CODES
Another feature of this update is displaying that a promotional code is being applied. Along with the clear display of discounted price of the product, you can now see those discounts in the cart, where your coupon code is also prominently displayed. There is no longer a need to walk through the checkout process to view how much of a discount you will actually receive with your promotional code.
FASTER RESPONSE TIMES
As always we are working on decreasing the amount of time you have to wait for the page to load. In the past 2 months, we have decreased our page load times by over 90%. While this will always be on our radar it's important to know that we have a few more large speed updates being tested now and hope to improve the overall experience even more.
SHARE YOUR IDEAS
While we are constantly working on improving our site, we are always willing and eager to hear what you have to say. please feel free to comment on this post or contact us at service@johnsonplastics.com to share your experience or ideas.