CADLINK
SOFTWARE
CADlink software makes your printing and engraving experiences more efficient and cost effective. The software intelligently maximizes print usage and saves you money by not wasting toner. It also allows you to make in program design changes, saving you time so you don't have to bounce between multiple software packages for edits.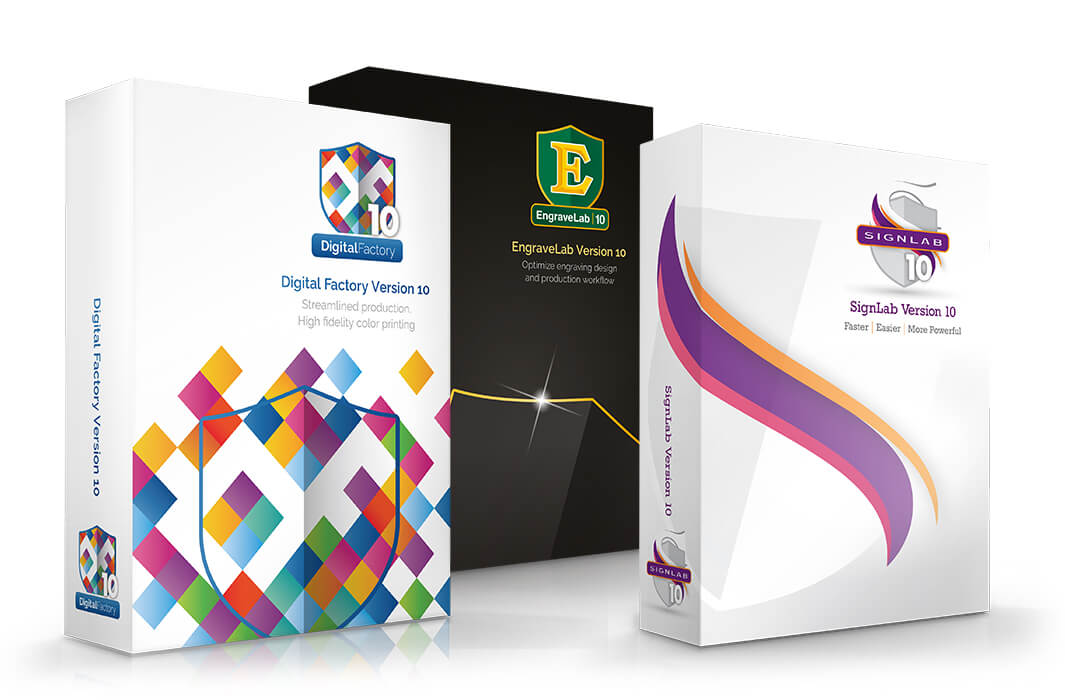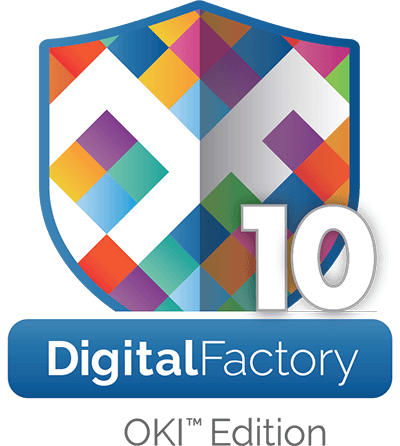 DigitalFactory 10
With more features than most in-the-box printer drivers or other limited RIP software solutions, Digital Factory OKI Edition offers specialized color management and print production workflow software specifically designed for OKI white toner printers.

Supports the following printers: C3xx Series, C6xx, C7xx, C8xx Series, C843 Series, C8432WT, Pro 7411WT, and Pro 9420WT.
SHOP DIGITALFACTORY 10 OKI EDITION
From entry-level printers to professional level Pro-Series printers, Digital Factory v10 OKI Edition RIP software provides outstanding pre-production and print workflow feature set alongside complete color management tools including automated white toner handling.

Supports the following printers: C3xx Series, C6xx, C7xx, C8xx Series, C843 Series, C8432WT, Pro 7411WT, Pro 9420WT, C911, C931, C941, C942, Pro 9431 Series, Pro 9541 Series, Pro 9542 Series, and Pro 9541WT.
SHOP DIGITALFACTORY 10 OKI PRO EDITION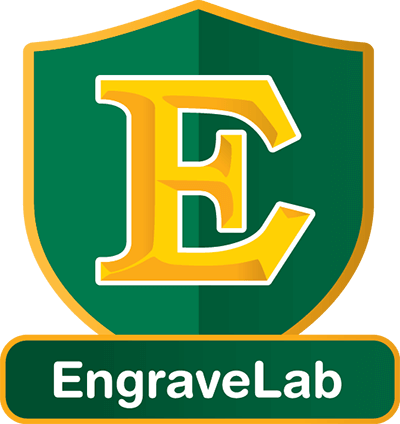 EngraveLab 10
Laser Only
Runs virtually all laser engravers available today including support for Ruida™ as well as Leetro™ (in the Laser "L" Edition) controller-based machines. EngraveLab Laser is a stand-alone design and production software package that eliminates the need for use of third-party design applications in most production workflow environments.

Using the complete selection of design, layout and production features including STL file import with interactive 3D preview, as well as support for raster engraving and vector cutting. Users can rely on EngraveLab Laser for all projects start to finish.
SHOP ENGRAVELAB 10 LASER
Laser Only
Specifically designed for amazingly detailed photo conversion laser output to a wide variety of materials, PhotoLaser Plus is ideal for shops already using third-party design applications but looking for professional-grade, consistently produced photo-realistic output.

Seamless file transfer with Corel™ enables users to quickly and easily convert images to grey-scale in order to make them laser-ready. PhotoLaser Plus also includes basic text entry and design tools as well as a host of engraving-specific production tools such as variable data (badges) support.
SHOP ENGRAVELAB 10 PHOTOLASER PLUS
Rotary Only
Includes support for the latest as well as most widely used legacy spindle-based engravers. EngraveLab Expert is feature packed with text composition, design and automated production tools that provide engraving shops the ability to produce a wide variety of products efficiently and easily.

Extensive third-party file format support as well seamless interface with other design applications simplify working with customer supplied artwork with little to no pre-production issues. EngraveLab Expert also includes complete Braille layout and design tools featuring the latest braille translation libraries as well as industry standard ADA (United States) compliance features.
SHOP ENGRAVELAB 10 EXPERT
Laser + Rotary
The best of both worlds. Versatility in a single package for both rotary and laser engravers. Run your entire engraving shop from the ultimate production engraving solution.

Quickly add another dimension for text, logos, and artwork with 3D chisel tool paths. The 3D chisel tool path creates carved-looking trophies, awards, and signs. Also included is true shape nesting that minimizes material usage for cutting out parts. By increasing your design capabilities and saving production time, the net result is maximized profits. The Pro package is a single software solution for rotary and laser engravers, vinyl cutters, and CNC machines.
SHOP ENGRAVELAB 10 PRO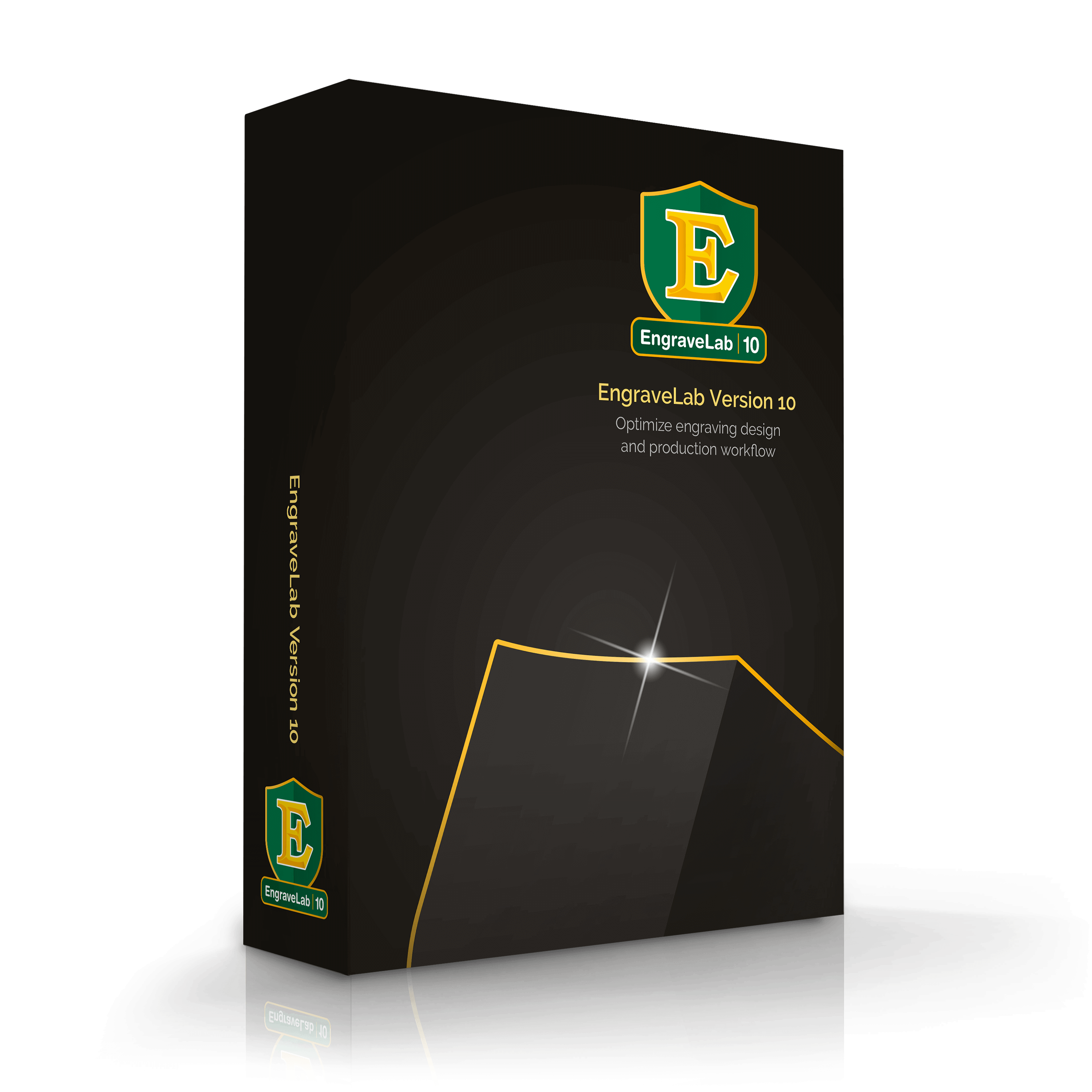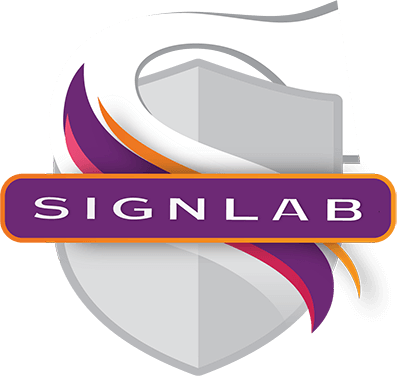 SignLab 10
With hundreds of cutter drivers to choose from, SignLab CutPro offers a complete vinyl cutting design and production workstation that is rich in text composition, design, layout and production tools. Rather than switch between design software and cutting software, SignLab CutPro is a single package solution that combines design features and cutting capabilities. CutPro's all in one design offers Power weed, nesting, customer proofs via email and dozens more tools, from one easy to use interface.

Best of all, the combination of design and production means you only need to setup and configure SignLab CutPro one time, then create and cut all your work from one software package.
SHOP SIGNLAB 10 CUTPRO
An all-inclusive vinyl cut signage design and production software product but also supports the design of full color graphics that may be sourced out for wide format digitally printed signs. All the great tools included within SignLab Vinyl plus a complete feature set of advanced, yet easy to use color design tools required for large format printing or print and cut signs and graphics.

VinylPro features all the vector tools required for design of vinyl cut signage plus complete bitmap tools for design of graphics for wide format digitally printed or print and cut graphics that can be out-sourced for production.

Work seamlessly with Corel, Illustrator and PhotoShop using "send to SignLab" plug-ins that are automatically installed in these software packages. An error-free and quick way to work with multiple files that may be included within your final design.

SignLab Vinyl Pro includes features developed over 20 years of close work with all major vinyl cutter manufacturers. The vinyl cutting feature set included within this package is a must have for beginner and professional signmakers alike.
SHOP SIGNLAB 10 VINYLPRO
Creating digitally printed, vinyl cut, and print/cut signs and graphics is easy with SignLab Print and Cut. By integrating easy to set up file transfers to Visual Production Manager from all major third-party programs like Corel Draw, Illustrator and PhotoShop, SignLab allows you to drive multiple job queues with output to most printers, cutters and hybrid print/cut devices. Manufacturers supported include, Roland, Mutoh, Mimaki, Summa, Gerber, Graphtec, Epson, Hewlett Packard, Canon and many others.

SignLab also functions as a vector and bitmap design and production platform, allowing you to use one interface for your entire production process. With SignLab's unmatched image processing speed, in house design, creation, and production of quality products has never been faster and easier.
SHOP SIGNLAB 10 PRINT AND CUT